International Software Test Institute is an independent Institute which helps Organizations and Professionals get certified with our Certification Programs and prove their competence and knowhow in Software Testing.

As of July 2016 International Software Test Institute has provided in 143 Countries more than 349'000 Accredited Software Tester, Software Test Manager and Software Test Automator Certifications. We support Software Testing and Quality Assurance Practitioners in Worldwide to build their Careers, and Companies to sell their High Quality Products, Services and Solutions.

The overall Software Testing Certification Process is as easy and fast as the following:
1. Register Online for your favorite Program.
2. We send your Exam Access Code instantly Online.
3. Take Online Test Exam anywhere anytime you want.
4. Get your Certification instantly Online.

The free-of-charge online training material located under TESTING and TRAINING links has been designed to cover all fundamental aspects of Software Testing Methodologies. After you read through this material, you will achieve the examination of our Software Testing Certification Programs. Success rate is 98%.
SOFTWARE TESTING REVEALED, 2ND EDITION
DOWNLOAD YOUR FREE COPY
FOR YOU WE WROTE THE BOOK OF
SOFTWARE TESTING.
CLICK BOOK COVER TO ACCESS TODAY!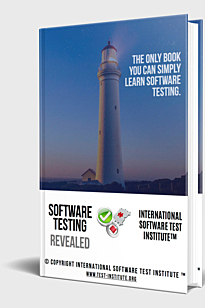 WHAT IS SOFTWARE TESTING?
Millions of Software Engineering Professionals all over the world are passionate about Software Testing and Software Quality Assurance. However, Software Testing is not yet another hype. Software Testing is an integral part of Software Delivery and Software Project Management Processes to develop great Products and Services that your customers love.

Software Testing is the Science and Art of delivering Software Products and Solutions to the end-customers with utmost possible Service Quality and with minimal interruption in Business Processes and Services.

Software Testing Methodologies are vital to all organizations which produce Software to strategize Software Test Teams with a clear Roadmap and Agenda to make sure that all Software Testing Team Members share the same Vision, Goals and Understanding of desired Software Quality Standards.

Find out more about Software Testing and Software Quality Assurance (QA)>>


TESTING CERTIFICATION PROGRAMS
REGISTER FOR A
CERTIFICATION PROGRAM
RECENT EVENTS

Boost your Quality with built-in Software Testing Features,
Frankfurt, 20th Sep 2016
How to design Quality-driven Software with built-in Quality Assurance Features.
Accredited Software Test Managers Event,
Mumbai, 26th Jan 2017
Gathering of International Software Test Institute's Accredited Software Test Managers.
Test Project Management and Governance Techniques in Software Engineering,
Vienna, 18th May 2017
How to deliver your Software Testing Projects on-time by still enabling maximum Quality Assurance.
Software Testing Executive Event,
Boston, 24th Sep 2017
Case Studies and Leading Practice Examples of Software Quality Assurance for Software Testing Executives.
Quality Assurance - A journey to Standardization and Industrialization,
London, 13th Dec 2017
How to embrace and cultivate Software Testing to build and accelerate your Brand.
Making Confident Decisions by leveraging Power and Culture of a reliable Software Testing,
Moscow, 27th Mar 2018
Time to understand and emphasize the value of Software Test and Quality Assurance Teams.
Find out more about our Events>>

WHAT MAKES OUR CERTIFICATION
PROGRAMS BEST OF THE INDUSTRY?

100% MONEY BACK GUARANTEE! If you don't pass your Software Testing Certification Examination, we hassle free refund your full registration fee!
Worldwide Credibility and Acceptance of Software Testing Certifications issued by International Software Test Institute.
International Recognition from all industries and from all leading organizations which embrace Software Testing and Software Quality Assurance as an inevitable part of their Software Delivery Processes.
International Software Test Institute is the fastest growing Software Testing Community with over 349'000 Software Quality Assurance professionals certified with our Accredited Software Tester, Software Test Manager and Software Test Automator Certifications.
Online, quick, simple and efficient Software Testing Certification Programs.
Certification Programs have been developed by a consortium of Selected Software Testing Experts from all major Industries.
No mandatory classroom trainings. Software Testing Professionals are often obliged to attend expensive classroom trainings as an indispensable part of other certification programs.
However, International Software Test Institute doesn't only value the knowhow gained from classroom trainings, but also we value the knowhow gained from reading and self-study or from any other medium and professional working experience.
Therefore, we do NOT mandatorily require our members to get classroom trainings before they can get Software Testing Certifications.
Valid for Lifetime Software Testing Certifications. Certificates issued by other certification programs are only valid for a few years or even less because they treat certification renewal process as an easy way to generate income. We believe that no fundamental changes are happening in the very core of Software Testing and Software Quality Assurance which deserves continuous examinations to revalidate proficiency in Software Testing.
Software Testing offers endless possibilities how companies tailor their activities based on their own business requirements and technical environments.
This shouldn't be perceived as an evolution of Software Testing itself.
We provide free of charge premium online training under TESTING and TRAINING links on our home page. Reading our Online Software Testing Training Program will be very helpful for Software Testing Professionals to acquire the knowhow to pass our Software Testing Certification Examinations and to get their Software Testing Certifications. We guarantee that our free of charge premium online training will make you pass your Certification Exam!
Feedback we receive from Industries>>
List of our Software Testing Certificants>>